Mitchell's Mansion
by Tom Casper ©
&nbsp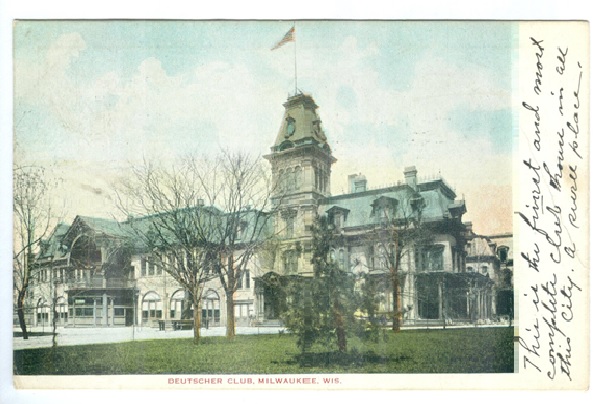 Alexander Mitchell (1817-1887) was instrumental in developing our city. He came to Milwaukee, Wisconsin Territory in 1839 with his business partner, George Smith from Scotland. At the time it was illegal to open a bank. To get around the banking law they opened Wisconsin Marine and Fire Insurance Company. They issued Certificates of Deposit which looked like currency and circulated as money. They received a banking charter in 1852. The bank underwent numerous name changes over the years until 1988 when they merged with Banc One.
Mitchell developed and consolidated numerous railroads becoming the president of the Milwaukee and St. Paul Railroad, later known as the Milwaukee Road. He was involved in many businesses and organizations. It was said he was the richest man in Wisconsin at the time.
In 1870 he built an elegant mansion at 900 W. Wisconsin Ave. in Milwaukee. The three floors contained a ballroom, library, conservatory with a small stream, palm trees and many exotic plants, a gazebo, all of which was surrounded by a wrought iron fence. The house was decorated with hand carved mahogany woodwork, stained glass and inlaid tile. He lived here until he died. Mitchell St., Mitchell Blvd., Mitchell Building at 207 E. Michigan St., Mitchell School at 1728 S. 23rd St., cities Alexandria and Mitchell, SD have all been named in his honor.

In 1871 he became a U.S. Representative serving two terms. He died in 1887 at the age of 69 and is interred at Forest Home Cemetery.
After Mitchell died, his home stood vacant for some time. In 1891 an elite social club was formed for German-Americans called the Deutscher Club or "German Club". They moved into the Mitchell mansion in 1895. In 1917, during WWI, the anti-German feelings caused them to change their name to the Wisconsin Club. The mansion and the Wisconsin Club remain at this location today.


Shown here is a postcard postmarked in 1909 showing the Deutscher Club. Also shown are three examples of trade tokens used at the Deutscher Club; 10c scalloped aluminum, 15c scalloped aluminum, and a 25c round brass token. These tokens would have been used circa 1895 – 1917.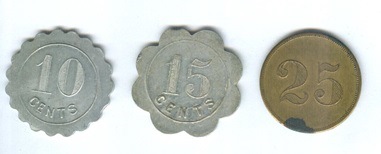 Calendar of Events
2018
News and Awards
Photo Gallery